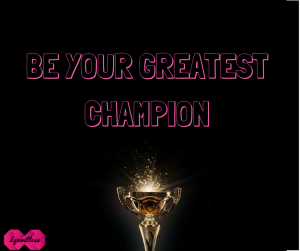 "I'm my greatest critic."
.
? is that statement true for you?
.
It is for me.
.
Funny, because I don't like it when other people criticise me – so why do it to myself?
.
I think it's because, like most people, I want to achieve things that are deeply important to me.
.
So, when I'm being hard on myself, it's because I feel that I'm not doing what it takes – or I simply haven't GOT what it takes.
.
[I SUCK AT EVERYTHING!]
.
Think about the things you say to yourself when you mess up…
.
"I ALWAYS do this!"
.
"I NEVER get this right!"
.
"I'm such a loser!"
.
Imagine if you said these things to your best friend every time they made a mistake?
.
They probably wouldn't be your friend for much longer!
.
Imagine if you said them to your child…
.
Pretty harsh, right? And probably untrue.
.
Certainly not the best way to support somebody to succeed.
.
So, don't you want yourself to succeed?
.
[Training, Dieting & Improving Your Lifestyle Takes Time To Learn]
.
As a coach, I often come across this negative self-talk when a client feels they're falling short.
.
"I just can't get this exercise right!"
.
"I'm so unfit!"
.
"I can't stick to a diet!"
.
To counter, I get them to focus on reality – that ALL this stuff is merely a learning process.
.
And learning takes time!
.
As long as you're willing to engage and be patient, you'll succeed.
.
[Support Your Learning By Being Nice To Yourself]
.
Like with your best friend or perhaps when teaching your child the alphabet.
.
Be nice!
.
When you don't get something 'right' just say:
.
"this is a new skill to me. I'm learning and I'm committed to practicing. I'm doing my best and I'm only going to get better!"
.
I guarantee you, having this attitude will help you immensely.
.
You'll feel better. More energised. More enthusiastic.
.
By being your greatest champion, you'll create the life-changing results you deserve.